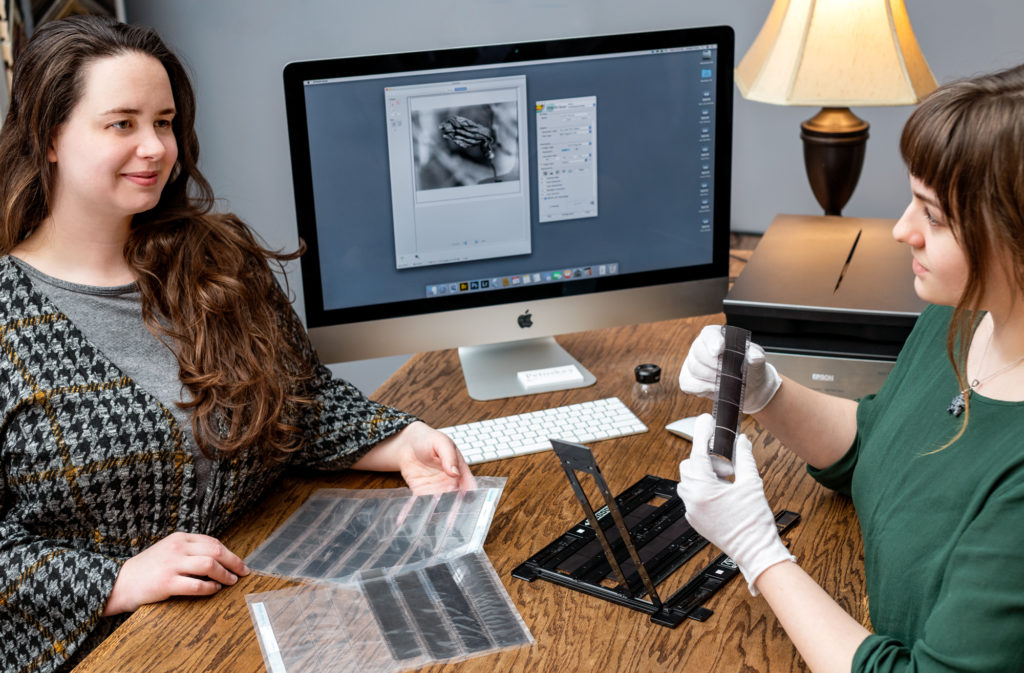 Archival Scanning and Restoration Services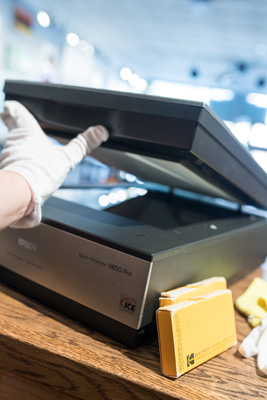 Scanning family photographs and documents is an excellent way to preserve them. Old photos, wedding certificates, birth certificates, and baptismal records fade and deteriorate over time. Digitizing them is the best means to preserve them for future generations.
If your photo or document is damaged or aged, we can scan and restore it quickly and easily. Whether you want a full digital archive or brand new, high-quality prints of digitally cleaned and repaired images to frame and enjoy for years to come, we're here to help.
The Print Studio Difference
We specialize in the archiving of photos, film, slides, and delicate documents. While almost all office supply stores, shipping stores, and commercial print shops offer a scanning service, they often lack the knowledge, resources, or qualifications to properly work with and care for fragile items like film and vintage documents. Unfortunately, we have seen copy shops and commercial printing businesses like these damage and destroy items they aren't equipped to handle. This is because they are specifically geared toward blueprint and text document reproduction and aren't experienced with antique items or art.
The team at Petoskey Print Studio is dedicated to the preservation of your delicate photos and artwork. We will work with you to ensure that our archiving services are right for your project so that you get the best service available and your pieces remain safe.
Digital Restoration
We offer full photo restoration services to refresh your vintage photos and documents and make them look new again. Using specialized software, we can mend scratches and tears, fix stains and blemishes, bring the color back to faded photos, and so much more.
Working with a budget? No problem! We bill only for the time we spend working on your project, and we can set budget limits for each item to make sure we don't exceed your expected cost. You have full control.
Photographic Reproduction
Some items, like large family portraits or paintings, may be too big for our tabletop scanner. In these cases, we offer high-resolution photographic reproduction by our in-house photographers. This is an effective way of digitizing your most treasured pieces with the highest fidelity possible, all while keeping them safe. This is also a great choice for painters and other visual artists who are looking to get high-resolution digital copies of their work.
Let's do this.
Call us today at 231 487 2102.
Photo-Restoration
Our Print Studio also offers full photo restoration services. Bring in the older and more damaged photos and documents and we can fix them up for you.
If you are looking to print from your scanned film, we got you covered with that as well. Check our our Photo Printing for more information.
We can and restore old photographs and documents. Our fine art scanning system can handle images and documents up to 8.5 x 11 inches. Larger scans are photographed by our in-house photographers. We specialize in the reproduction of photographs and all artwork.
You have the control
We bill only for the time we spend working on your project. We can provide you with an estimated time frame it will take for your project. You can then set limits per project or for the entire project. This is a budget friendly way to get quality work for your expected expenses.