Custom Framing
Framing provides the best means to display, preserve, and enhance the beauty of your artwork and photos. Our custom framing services are always tailored to the individual needs of each client and the unique character of each piece, and we never sacrifice quality. We exclusively use premium frame products made of solid wood or solid metal, and our broad selection of frame and mat styles pair easily with any piece or environment.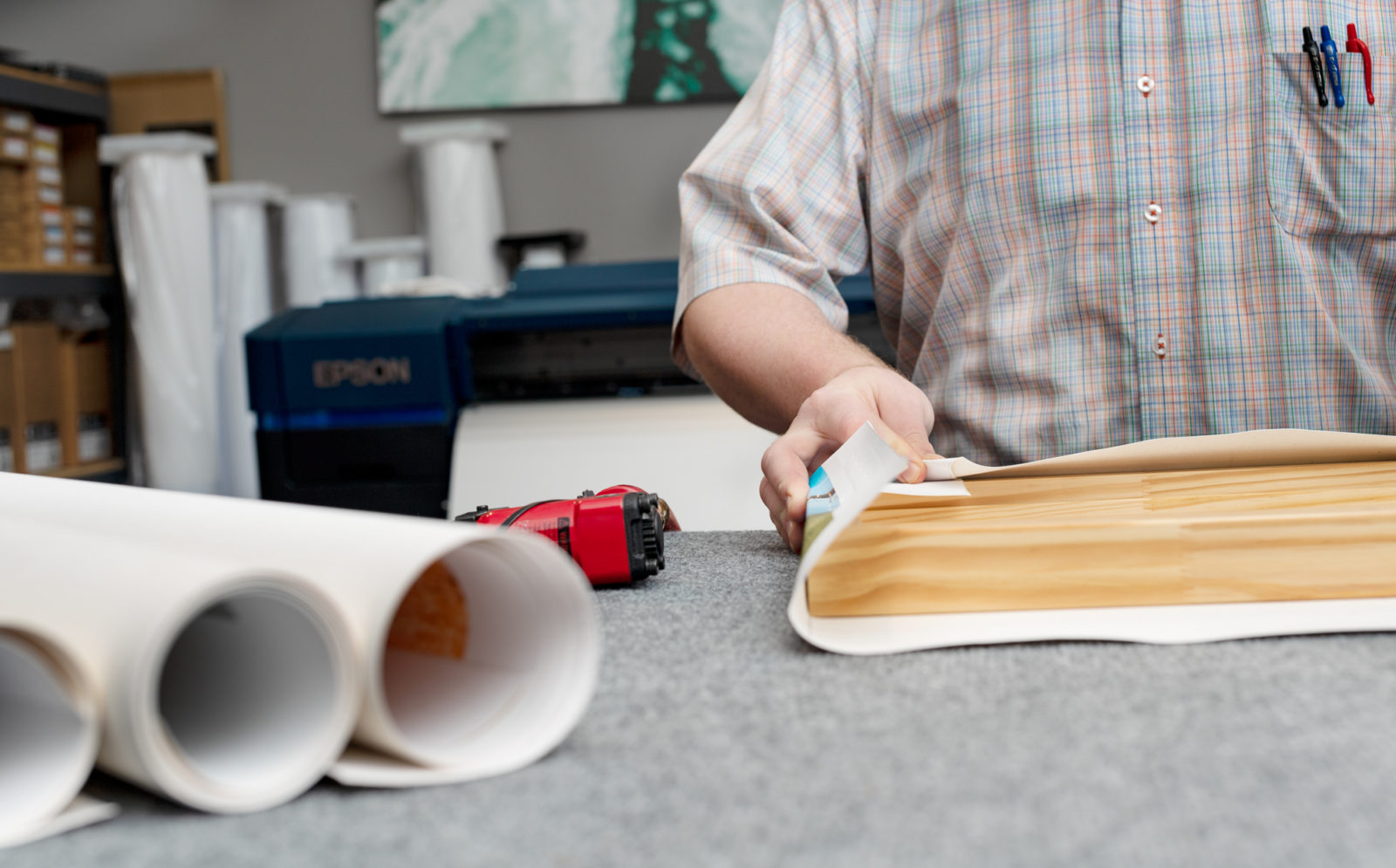 Conservation Methods
At Petoskey Print Studio, we pride ourselves on using only the highest quality conservation materials and methods to protect and preserve your beloved pieces according to industry best practices. Other frame shops take a one-size-fits-all approach to photos and artwork; many of the chain stores will dry mount everything from movie posters to diplomas to original paintings, leaving them permanently adhered to a board and decreasing any value they might have had. 
While dry mounting is a traditional framing process we still use for many projects today, we at Petoskey Print Studio know that every piece is different and requires a framing solution that works best for its particular needs. That is why we offer free framing consultations in-store to determine the most appropriate process for framing your piece so that it stays safe and looks great for years to come.
Photography Mounting and Matting
The best way to protect your photography and printed fine art from curling and bending is by mounting it to an archival board. Our heat-activated adhesive board provides for edge-to-edge adhesion of your work, and all our materials are acid-free, pH-balanced, and conservation grade. Accompany your mounted art with a mat and it's ready for a frame. Make use of our premium custom framing services, our readymade frame options, or bring a frame from home; no matter what, we'll make sure your piece is properly fitted.
Introducing EZ-Frames.
EZ-Frames are a convenient, economical, flat-rate framing service for when you want the quality and allure of custom framing at a lesser expense.
All EZ-Frames include:
3/4″ matte black wood molding

Dry-mount on archival board

Choice of white, egg white, gray, or dark gray acid-free conservation-grade mat

Choice of Conservation Clear Glass or Acrylic* (blocks 99% of UV light) or Premium Clear Acrylic (non-conservation)
Simple flat-rate pricing:
8×10:   $99
16×20: $149
20×30: $199
20×40: $229
EZ-Frames can be ordered online alongside your photo prints or fine art print orders. For more information on EZ-Frames, contact us at 231 487 2102 or use our online ordering system.
* Conservation Clear Acrylic is extra.
Readymade Frames
Want the look of our wood frames and acid-free mats without the wait? Come in-store and browse our rotating selection of readymade frames and pre-cut mats made from the same premium materials as our beautiful custom frames. Readymade frames come with glazing, foam board backing, and hanging hardware, so all you need to do is get your photo inside.
Canvas Framing
As regional canvas experts, we know the best ways to frame your loose, wrapped, and mounted canvas prints. Whether you're looking for a traditional frame to cap your piece with a more formal look or a float frame to give your canvas wrap some modern flair, you'll find what you need in our wide range of frames.
Our framing department sources from Michigan and national businesses for solid wood and metal frames. We have many samples in our Downtown Petoskey storefront for your convenience. We ask that you visit us for a design and consultation session for your framing projects.
We offer many framing options from multiple vendors including Larson-Juhl, Roma Moulding, and International Moulding. (Clicking on the vendor will take you to their website to view their molding options. If you find a frame molding that you like, please take a screenshot of it and/or notate the item number and bring it with you during your consultation.) All our mats and mounting materials are acid-free and conservation grade, and we offer the best glass coverings such as Tru Vue's Conservation Clear, Museum, and Conservation Acrylic products.
Virtual Samples
Our design team is happy to assist you with your framing needs remotely. Simply send us a digital photo or copy of the piece you want to frame. Our design team will review the artwork and frame options and reply to you with virtual framing options and pricing for the project. Call 231 487 2102 to get started.
You can also use the online Framing Tool to select from quality products offered by Larson-Juhl by clicking this link.